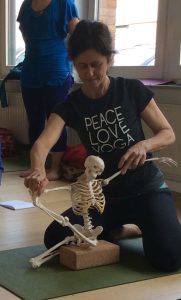 Laura's anatomy workshops are for yoga teachers and and students who are interested in deepening their knowledge of the human body to inform their teaching, their practice, or both!
Each workshop includes discussion of anatomy as it relates to yoga postures, common injuries, and how to prevent and/or work with these injuries. We will also build human anatomy using clay – a powerful way to commit this information to memory – and will map this knowledge directly onto the human body through asana practice.
Laura's workshops are comprehensive. She has over 20 years of experience making the study of anatomy not only accessible, but also engaging and fun!