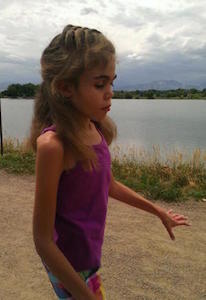 One of our youngest students, Kellie Taylor (17 yrs), who has a rare disease – Sanfillipo Syndrome – will be walking 5k on Saturday, April 22, 2017 to raise funds for research and awareness of Rare Diseases. You can support her by donating or by joining us to walk the 3.1 miles with Kellie.
Kellie has been practicing for six years at the studio!
Kellie is easy-going, hard-working, determined, smart and strong – and beautiful! She handles her disease with ultimate grace. Sanfilippo Syndrome is a genetic flaw resulting in a lack of one enzyme; it causes relentless buildup of cellular waste in children's bodies that kills cells and clogs major organs and joints; it causes death in the teenage years. There is no treatment or cure. It is inherited when both parents carry a recessive gene.
You are welcome to post her flyer, pictures, or video link, to help others know they can support this cause and come walk with us!