For topics and schedule of current therapy classes, see our full schedule.
Laura Allard-Antelmi is a Certified Iyengar Yoga Instructor, anatomist, and founder of the Iyengar Yoga Center of Boulder. Having studied therapeutic yoga with Stephanie Quirk and the Iyengar family, Laura has more than 22 years of experience using yoga to help people heal.
If you are interested in attending a Therapeutic Yoga class, we ask that you first have a consultation with Laura (by phone or in person) so she can familiarize herself with your unique situation and gauge your readiness for the class or develop a personal yoga practice for you. Please contact us to arrange a consultation.
Principles of Therapeutic Yoga
In the Iyengar tradition, therapeutics play an important role in the spectrum of asana and teachers certified at higher levels are allowed to guide students through powerful sequences to support and heal various conditions. Students with special issues are given sequences of postures designed as a "therapy" to treat their individual conditions. Typically these include back care, joint issues, energetic/hormonal imbalances, lack of mobility due to injury, and much more: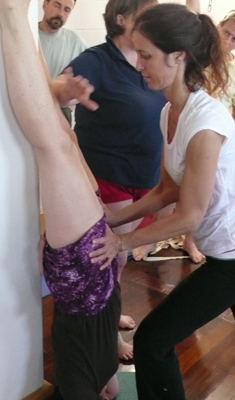 Depression
Head aches
Grief
Insomnia
Fatigue
Anxiety
Stress
Arthritis
Respiratory problems
Cardiovascular conditions
Digestive problems
Injury of knees, neck and shoulders, and lower back
Yoga Therapy uses classic Iyengar yoga poses in a modified fashion – often with yoga props – to gently, safely, and gradually get students to start accessing their body with more awareness. As the practice progresses over time, healing occurs and students can begin to reduce the level of modifications to the poses. Eventually, students may even advance from a remedial/recovering practice to a strengthening and more general practice or group class.
Our Therapeutic Yoga Classes
Iyengar Yoga Therapy Classes allow students who have back, shoulder, neck, knee, organic ailments, or emotional and stress-related problems to work with an experienced and specially-trained teacher in a small class setting. For many people this work will improve their quality of life and may even allow healing to progress more rapidly.
Students will learn how to practice a healing adaptive yoga program that should enable them to make progress in overcoming their ailments or injuries. This highly individualized work has been developed over the past 60 years by B.K.S. Iyengar in India where Laura studies.
Each therapy class begins with slow, passive motion to see how each part is moving and feeling during normal ranges of motion. The yoga sequence is carefully selected and taught to provide safe strengthening and flexibility for problem areas, and to develop individual home practice sequences to balance the joints. Many students find that yoga therapy allows them expand their activities outside the studio, which may have been limited by an injury, weakness, or another limitation.